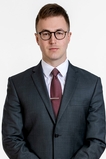 Michael N. Coopersmith
Associate
PRINT
Michael has extensive experience working with the ITAR, EAR, and OFAC, and is experienced with developing, designing, and implementing effective export control compliance programs. An area of special expertise for Michael is export licensing policy and requirements, specifically in relation to the semiconductor industry. Before joining Barnes, Richardson & Colburn Michael worked in the Legal Department of a Fortune 500 electronics company, where he specialized in issues of export and import legal compliance.
Michael is a member of the District of Columbia Bar Association and an active member of both the International Law and the Environment, Energy and Natural Resources D.C. Bar communities.

Michael graduated from the University of Denver Sturm College of Law in 2016 where he obtained his J.D. as well his LL.M. in Environmental and Natural Resource Law and Policy. Prior to graduation, Michael worked as a municipal prosecutor in Anchorage, Alaska and as a Law Clerk in the Office of Enforcement and Compliance at the U.S. Environmental Protection Agency.
Michael earned his Bachelor of Arts from the University of Colorado Denver, where he majored in Global Studies with an emphasis on international economics and development. During his undergraduate studies Michael spent one year at the Leopold Franzens Universität in Innsbruck, Austria where he studied international business and the German language.