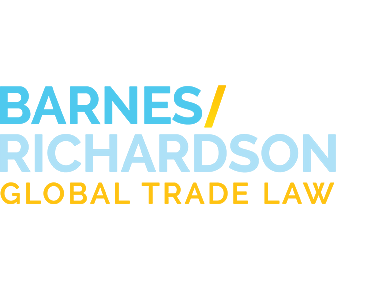 Exports
Compliance
Barnes/Richardson provides practical and effective to help clients development and implementation Export Management Systems. An EMS allows traders to transfer products and information across borders confident that they are in compliance with the law regarding exports, re-exports and deemed exports. We examine process flows to eliminate complexity and waste, strengthen knowledge and management decision-making in day-to-day operations, and conduct internal staff training to assist in maintaining complex compliance initiatives once the Export Management System is in place.
Licensing
Whether the jurisdiction for a particular transaction is properly with the Bureau of Export Administration of the Commerce Department, the State Department, or the Office of Foreign Assets Control of the Treasury Department, Barnes/Richardson can quickly and effectively analyze proposed transactions and apply the laws and regulations to determine whether a license is required. If so, we can present the matter to the agency concerned in such a way that the license is granted as quickly and efficiently as possible. In addition, Barnes/Richardson will advise on the scope of the license and the proper application of the license so that the exporter is clear as to its privileges and responsibilities.
Investigations and Enforcement
Barnes/Richardson is prepared to assist should the client receive a summons, subpoena or otherwise be the subject of a civil or criminal investigation. Such investigations are becoming more common and an ever more important tool of the government to ensure export compliance. At such times, expert and experienced counsel is essential. Barnes/Richardson fills that role.
Dec. 6, 2023

Nov. 28, 2023

Nov. 10, 2023

Nov. 3, 2023

Oct. 30, 2023

Oct. 26, 2023

Oct. 24, 2023

Oct. 13, 2023

Oct. 11, 2023

Oct. 10, 2023

Oct. 5, 2023

Oct. 3, 2023

Oct. 2, 2023

Sep. 25, 2023

Sep. 12, 2022

Sept. 5, 2023

Sept. 5, 2023

Aug. 14, 2023

Jul. 31, 2023

Jul. 27, 2023

Jul. 17, 2023

Jul. 7, 2023

Jun. 26, 2023

Jun. 15, 2023

Jun. 9, 2023

Jun. 1, 2023

May 30, 2023

May 30, 2023

May 29, 2023

May 19, 2023

May 19, 2023

May 8, 2023

Apr. 28, 2023

Apr. 26, 2023

Apr. 20, 2023

Apr. 10, 2023

Apr. 10, 2023

Mar. 27, 2023

Mar. 27, 2023

Mar. 7, 2023

Feb. 24, 2023

Feb. 24, 2023

Feb. 17, 2023

Feb. 15, 2021

Feb. 6, 2023

Feb. 6, 2023

Jan. 30, 2023
Jun. 2, 2023

March 18, 2019

March 29, 2019

May 4, 2017

March 3, 2017

March 2, 2017

January 20, 2016

May 12, 2015

February 10, 2015

January 20, 2015

October 24, 2014

April 01, 2014

Jan. 16, 2014

November 06, 2013

September 20, 2013

September 10, 2012

February 4, 2011

January 4, 2011

October 25, 2010

January 9, 2009

August 29, 2008

July 24, 2008

June 5, 2008

April 24, 2008

April 18, 2008

March 26, 2008

January 22, 2008

January 14, 2008

October 12, 2007

June 21, 2007

Apr. 24, 2007

July 14, 2005

March 10, 2004

March 2, 2004

January 1, 2003

January 1, 2003

January 2003

January 1, 2003

November 26, 2001