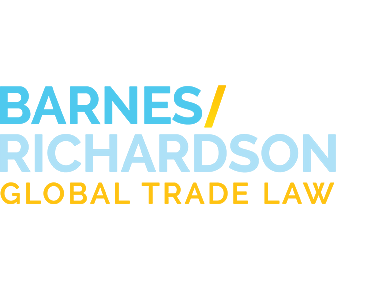 Imports
Classification
Proper tariff classification requires a detailed legal analysis and thorough knowledge of the international Harmonized Tariff System (HTS) In the U.S., knowledge of the HTSUS, Customs rulings and practices, as well as court decisions is essential to effective and practical strategies. Barnes/Richardson draws on more than ten decades of experience in classification to identify the classification resulting in the lowest legally correct rate.
Valuation
Importers must ensure that the correct method of valuation is applied to their merchandise and that all required elements are included in the value reported to the customs authorities. Barnes/Richardson brings to bear unparalleled expertise on issues of valuation including working with importers to implement systems to identify and report assists (e.g., tooling and engineering expenses), establishing first sale for entry, and defending valuation in audits.
Customs Legal Compliance Programs
The burden of compliance with the laws and regulations administered by the Customs and Border Protection falls upon importers who must discharge this responsibility with reasonable care. That means establishing practical business systems and procedures that ensure importers meet Customs expectations of informed compliance. Barnes/Richardson designs and assists in the implementation of legal compliance programs specifically tailored to the needs of individual clients, including internal compliance reviews, the preparation of comprehensive manuals, training and other services designed to ensure and document the exercise of reasonable care. More below . . . .
Trade Agreements and Duty Reduction
Successive rounds of GATT/WTO negotiations and free trade agreement negotiations such as those leading to the USMCA have presented opportunities for those importers and domestic industries that are alert to the developments in these negotiations and that present their views effectively.

The U.S.-Mexico-Canada Free Trade Agreement, other similar agreements and programs such as the Generalized System of Preferences, AGOA, and duty drawback give importers opportunities to reduce the duties and fees owed on shipments to the United States and have created new avenues for U.S.-based importers to take advantage of economic opportunities for suppliers and factories in worldwide. We provide expert support in developing duty-reduction programs, including the completion of Certificates of Origin and the development of systems for communicating technically detailed FTA requirements to suppliers and customers. We also help with FTA verifications, GSP audits, the operation of Foreign Trade Zones, duty drawback, and other duty reduction opportunities.
Investigation & Audits
Formal investigations conducted by U.S. Customs and Border Protection, Immigration and Customs Enforcement, or other enforcement agencies and audits conducted by Customs can result in significant additional duty liability and the assessment of substantial penalties. Barnes/Richardson provides guidance and representation throughout the course of investigations and audits seeking to eliminate exposure to additional duty or penalty liability. More below . . . .
Cargo Security
The security of your supply chain is an important area of focus for Customs & Border Protection. To avoid delays in the release of merchandise as well as to gain access to benefits from Customs, importers may wish to participate in the Customs-Trade Partnership Against Terrorism, or C-TPAT. Barnes/Richardson lawyers help importers and foreign manufacturers apply for and retain C-TPAT membership from the implementation and application process through to, if necessary, responding to security incidents.
Binational Panel Reviews
The USMCA and its predecessor, the NAFTA, established unique dispute resolution procedures for international trade disputes in which the parties present their cases to a panel of decision-makers made up of both foreign and U.S. nationals. Barnes/Richardson lawyers pioneered the conduct of NAFTA binational panel reviews and can represented interested parties before USMCA panels.
May 30, 2023

May 30, 2023

May 24, 2023

May 24, 2023

May 24, 2023

May 19, 2023

May 16, 2023

May 15, 2023

May 8, 2023

May 8, 2023

Apr. 28, 2023

Apr. 24, 2023

Apr. 21, 2023

Apr. 10, 2023

Apr. 10, 2023

Mar. 30, 2023

Mar. 29, 2023

Mar. 27, 2023

Mar. 24, 2023

Mar. 23, 2023

Mar. 10, 2023

Feb. 24, 2023

Feb. 24, 2023

Feb. 24, 2023

Feb. 17, 2023

Feb. 15, 2021

Feb. 9, 2023

Feb. 8, 2023

Jan. 30, 2023

Jan. 30, 2023

Jan. 27, 2023

Jan. 27, 2023

Jan. 24, 2023

Jan. 24, 2023

Jan. 17, 2023

Jan. 17, 2023

Jan. 12, 2023

Dec. 20, 2022

Dec. 20, 2022

Dec. 20, 2022

Dec. 13, 2022

Dec. 5, 2022

Nov. 29, 2022

Nov. 29, 2022

Nov. 14, 2022

Nov. 4, 2022

Nov. 1, 2022
April 13, 2020

January 20, 2020

June 3, 2019

March 18, 2019

March 29, 2019

March 23, 2018

May 4, 2017

March 16, 2017

March 3, 2017

March 3, 2017

March 2, 2017

February 14, 2017

January 19, 2017

February 10, 2015

October 24, 2014

October 24, 2014

September 4, 2014

July 18, 2014

May 23, 2014

April 23, 2014

April 23, 2014

April 23, 2014

April 01, 2014

March 28, 2014

November 06, 2013

September 20, 2013

May 8, 2013

February 5, 2013

January 29, 2013

Dec. 14, 2012

September 28, 2012

Sept. 25, 2012

September 10, 2012

August 27, 2012

Jun. 6, 2012

March 2, 2012

December 6, 2011

December 6, 2011

October 27, 2011

Aug. 10, 2011

August 10, 2011

Jun. 10, 2011

January 4, 2011

Apr. 22, 2009

September 26, 2008

September 16, 2008

July 8, 2008

June 8, 2008

May 30, 2008

May 30, 2008

May 5, 2008

April 7, 2008

April 1, 2008

February 4, 2008

February 1, 2008

January 22, 2008

January 14, 2008

October 12, 2007

October 12, 2007

October 2, 2007

July 13, 2007

July 13, 2007

May 15, 2007

May 1, 2007

March 3, 2007

August 1, 2006

July 19, 2006

June 28, 2006

April 26, 2006

November 18, 2004

September 29, 2004

September 29, 2004

August 15, 2004

June 24, 2004

May 1, 2004

March 10, 2004

March 2, 2004

January 27, 2004

October 2003

August 2003

August 21, 2003

May 2003

January 1, 2003

January 1, 2003

January 1, 2003

January 1, 2003

January 1, 2003

January 1, 2003

January 1, 2003

January 1, 2003

January 1, 2003

January 2003

April 3, 2002